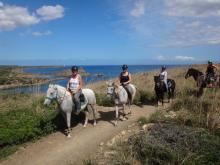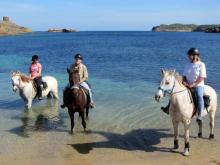 Welcome to our website, our riding centre is situated near Mahon, on the beautiful island of Minorca. At our friendly stables you will find happy and well cared for horses waiting to give you a really great time. We train our horses using natural horsemanship methods and many are ridden bit-less and go barefoot. Our top priorities are the well-being of all our animals and the safety and enjoyment of our visitors.
Come horse riding with us, beginners and less confident riders will enjoy a leisurely countryside excursion, those with some riding experience can ride to the coast at Cala Esteve whilst  more experienced riders have the chance to enjoy the stunning coastal views on the spectacular 'coast and beaches' ride. 
We are open all year round,  and we offer a warm welcome to everyone, from complete beginners to expert riders.
We are only a 5 minute taxi from the cruise ship dock and Mahon bus terminal
Call Laura on (+34) 646 459 734 or email us for information and booking
© Menorca Horse Riding | (+34) 669 255 487 | menorcahorseriding@gmail.com