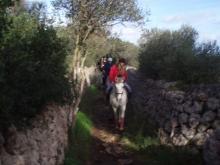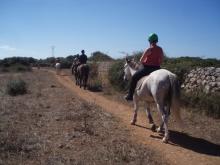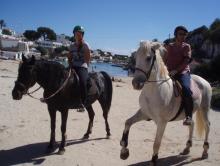 3.5h or more, most suitable for riders with some experience
Ride to Cala Rafalet
Visit the 'secret beach'
A ride along small lanes and old tracks via the small village of Trebaluger, then along the Cami de Cavalls coastal path. We dismount and leave the horses under the trees to descend 5 minutes through shady holm oak woods and visit Cala Rafalet - a narrow, rocky inlet with a pocket-sized sandy beach. The return route goes along an ancient paved section of the 'horse road' and back to the stables by a different route.
Ride to Alcalfar beach
Not available during July and August
A longer ride along a similar route goes to the sandy beach at Alcalfar, we can ride down onto the sand but not into the water in summer when the beach is busy. 
For your safety, all riders must wear helmets which are provided. You will be most comfortable riding in long trousers and trainers or shoes, we have half-chaps for loan if required.
Call Sarah (+34) 669 255 487 or email us for information and booking