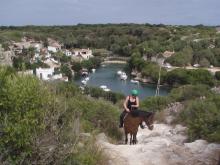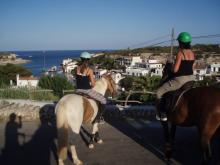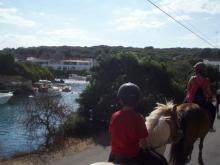 2.5 hours, suitable for riders with some experience and confident beginners
This ride goes from the stables along small roads and old tracks towards Cala Esteve. There are nice views en-route over the harbour to the historic site of La Mola, we pass through typical Menorcan scenery with old paved roads flanked by dry stone walls and along part of the ancient Cami de Cavalls.
 
 We have many clients who haven't ridden for many years and enjoy the chance of getting back in the saddle, more proficient riders will get the chance to trot and canter if they wish, we try to make up small groups of similar riding ability.
 For your safety, all riders must wear helmets which are provided. You will be most comfortable riding in long trousers and trainers or shoes. We have half-chaps for hire (€2)