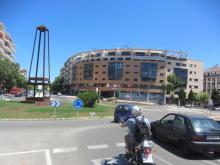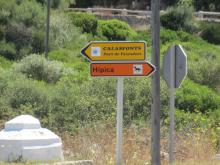 How to find us at EQUIMAR Centre Ecuestre
We are situated close to Mahon and Es Castel at Km 1, Cami Verd
39.87626N   4.269374E
We are a 5 minute taxi ride from the cruise ship dock and Mahon bus station, ask your taxi to come to 'Equimar Centre Ecuestre, Cami Verd'
If you are driving, head towards Mahon and turn right onto the ring road (´ronda`) which is a dual carriageway with lots of roundabouts. Go straight on round all the roundabouts until you get to the 'rusty tower' turn to Es Castell.
IMAGE 1: Turn right towards Es Castell  (Me-2) at the 'rusty tower' roundabout on the Mahon ring road, you are now heading east away from Mahon.
IMAGE 2: Turn first right up Cami Verd at the orange 'HIPICA' sign, continue up hill to Equimar.
If you are coming from Es Castell head towards Mahon and look out for the orange ´HIPICA´sign on your left, turn up Cami Verd towards the stables.
Note: GPS in not good at finding us, it´s better to use the directions above.